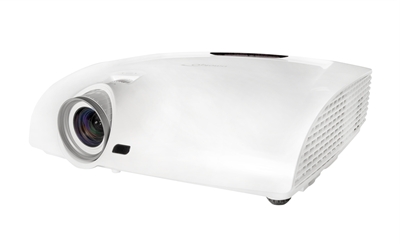 Optoma has introduced the HD33, a home theater projector that the company describes as the first full 1080p 3D model available for less than $1,500.
The HD33 has a rated brightness of 1,800 ANSI lumens and a 4,000:1 contrast ratio. It measures 14.2 by 4.5 by 12.2 inches and weighs 10 pounds.
This projector incorporates several new proprietary technologies that, according to Optoma, "deliver a truly dynamic cinematic experience." Optoma's PureMotion3D frame interpolation processing reduces judder to create smoother video sequences in both 2D and 3D content. PureDepth optimizes the projector's brightness and image configuration in both 2D and 3D. And a new color processing system provides improved color accuracy, contrast, black levels and shadow details in image sizes ranging from 35 inches to more than 300 inches.
The HD33 has also been developed in parallel with the company's new 3D-RF glasses, which use RF (radio frequency) technology. According to Optoma, they've been been designed to maximize brightness and contrast while eliminating the line of sight and synchronization issues commonly experienced with systems using infra-red (IR) emitters. The new glasses are fully rechargeable; the emitter is included with the projector, while the glasses will be sold separately.
The HD33 supports all the HDMI 1.4a mandatory 3D formats, including both Side-by-Side and Top & Bottom formats, and more. To further enhance 3D compatibility, Side-by-Side and Top & Bottom formats can be manually enabled to allow other non-HDMI 1.4a compatible devices, such as older set top boxes, Xbox360, or PCs, to display 3D via the VGA or HDMI ports. Accordingly, the HD33 offers two HDMI 1.4a ports, one VGA port, as well as connections for component video, composite video, RS-232, a +12V trigger, and a VESA 3D Port.
3D content can be viewed with RF glasses or DLP Link-based 3D active shutter glasses when used with a 3D-ready player.
The Optoma HD33 will be available this month at a price of $1,499.
UPDATE: Check the Optoma web site for more information.