This guide will show how you can get Altibox TV to work when used with Ubiquiti UniFi devices. Please note that this guide will only cover the following scenario: Altibox VMG Hjemmesentral in Bridge Mode, with UniFi Security Gateway (USG) and two UniFi switches in separate rooms with one Ethernet cable running between them.
Simple illustration: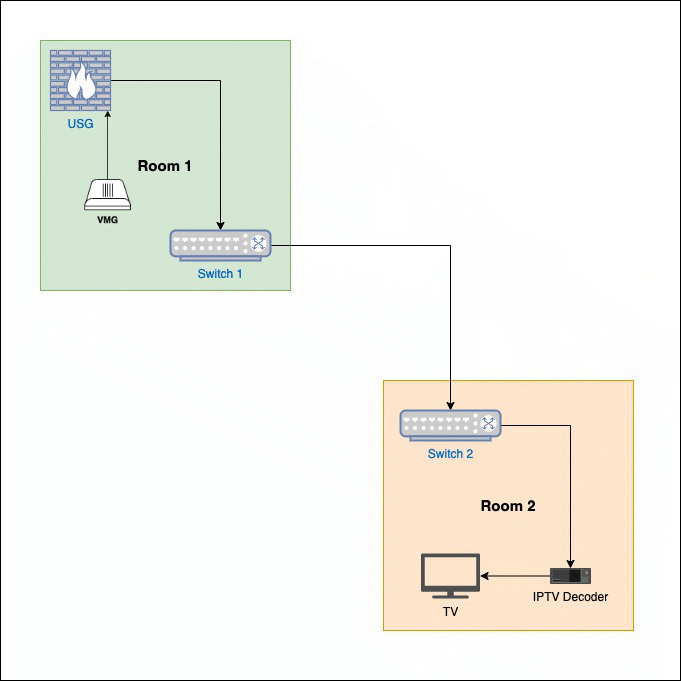 The whole idea here is to set up VLAN tagged switches in each room so the VMG can transfer its IPTV signals between them. Altibox have three VLANs assigned to the VMG:
VLAN 101 – TV
VLAN 102 – Internet
VLAN 103 – IP telephone and management (not used in this guide)
Note: Going forward with the guide, I will assume that you have a functional network up and running. With USG, the switches and maybe some access points to access the internet. The configuration and screenshots are from the UniFi Controller in Classic Mode (version 5.14.23).
Log into your UniFi Controller and go to Settings -> Networks -> Create new network

Type in a name, i.e altibox TV, select the purpose VLAN Only, type in 101 in the VLAN box, click Enable IGMP snooping and finally click SAVE.
Go back to your UniFi overview and go to Devices and choose the switch you want to configure first. Click on one of the ports that you want to use for the IPTV signals. (In this illustration I chose port 14.)

Click the little pencil icon to edit the port settings.
When inside the edit box, select altibox TV (101) from the dropdown under Switch Port Profile and click Apply. (No other settings needs changing.)
Let the UniFi Controller provision the new settings and repeat the steps above (steps 2 and 3) on the second switch. (You can choose whatever port you want.)
Next you need to connect an Ethernet cable from the VMG to the newly configured port on the switch. When the VMG is in Bridge Mode the LAN ports 1, 2 and 3 are used for IPTV Decoder signals and LAN port 4, as you already should know, is used as the WAN link to the USG.
In my example, I connected a cable from LAN port 1 on the VMG to port 14 on the UniFi switch.
In the TV-room side, connect a cable from the IPTV Decoder's LAN port to the port on the second UniFi switch you enabled the Switch Port Profile to.

Turn on the power button on the IPTV Decoder and let it boot up. If you haven't used the decoder before, it will probably have to be updated with the latest software. This is an automated process and you just need to let it finish.
That's it! You should now have TV signals via VLAN using one Ethernet cable.